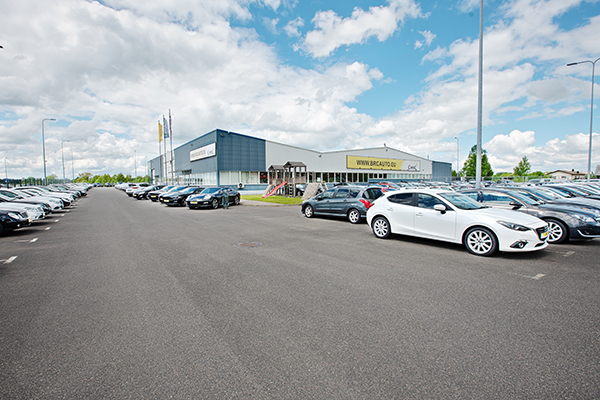 Are you selling a car? BRC will take care of that and will offer the best conditions.
Whenever you'll decide to sell your car, do it at BRC Autocenter. It's probably the most easiest, comfortable and carefree solution to find a new owner for your vehicle. By accepting your car for sale at BRC we will take care of all the necessities – from thorough cleaning to arranging leasing, registration or export formalities as we have everything covered in one place. In addition, exhibiting your car at the BRC parking lot is absolutely free of charge and there are no limitations in time. More than that, our parking lot is being observed by the security 24/7 and all cars are insured. Once we find a customer ready to buy your car we will pay the exact amount we have agreed with you. There are no hidden costs whatsoever as the final car price* is announced with a commission fee, so you will not face any additional costs. When the sale of a car is completed we deliver the bank transfer immediately but no later than the next working day. Whatever the brand, year or mileage of your car – sell it at BRC Autocenter!

* The announced final price of the car is with a 5% commission surcharge, but not less than 300, - Eur.
Advantages we offer:
FREE AND UNLIMITED EXHIBITION AND STORAGE

At BRC Autocenter your car will be exhibited, insured and observed by the security 24/7, from the moment it is parked with no time limitation.



FREE CAR EXTERIOR AND INTERIOR WASHING

We will thoroughly wash the outside of the car and responsibly clean its interior.



FREE CAR ADVERTISING

To find a customer as fast as possible we will advertise your car in the most popular websites such as Autogidas, AutoPlius, Autobilis, Mobile.de, on our Facebook page and our website www.brc.lt.



FREE TECHNICAL CHECK

If the mandatory car technical check had ran out we will cover that too at our own costs.


FREE CAR REGISTRATION

If your vehicle is not yet registered in Lithuania, we will arrange all registration formalities free of charge, so you don't experience any queues at SE Regitra.



FREE EXPORT FORMALITIES

If the car will be sold to a foreigner we will handle all export formalities free of charge.



FUNDING OPPORTUNITIES

BRC offers a wide range of financing opportunities for legal entities including start-ups; liaises with all leasing companies operating in Lithuania and helps to choose the most suitable financing opportunities purchasing cars for companies and individuals.



---

NO HIDDEN FEES

You will not incur any additional costs - all car costs will be included in the price of the car. The announced final price of the car is with a 5% commission surcharge, but not less than 300, - Eur.



TAKING YOUR CAR BACK

If you will change your mind and decide to take the car back, you can do so at any time convenient for you during BRC Autocenter working hours.